Federica Mogherini, the current European Representative for High Affairs has arguably had a faster rise to political prominence than either Merkel or Clinton, and at the age of 41 has already ascended to the highest diplomatic post in the European Union.
Quick ascent
Mogherini was born the daughter of a famous set designer, and enjoyed a childhood of minor celebrity. She went to a school with a heavy focus on languages and as such she speaks English, French, and a "little" Spanish. She majored in political science and did her thesis on Political Islam.
Mogherini was elected to the Italian Parliament in 2008 and was part of the center-left wing of the party, campaigning against racism and xenophobia. Mogherini saw her rise to national prominence in Italy began when she tweeted a scathing criticism of Prime Minister Renzi and his grasp of foreign policy, who at the time was campaigning for his party's nomination. After his victory, Renzi chose to appoint her as the foreign minister for his newly formed government making her the youngest foreign minister in Italian history.
As the Italian Foreign Minister, Mogherini faced some criticism for being overly friendly with Vladimir Putin, as she expressed a willingness to speak with him and invited him to several economic events in Italy. It was this willingness to speak with Putin that led the Baltic States to oppose her appointment as the official diplomat to the European Union. This opposition was countered by a swift backlash by the Italian government and people who saw this as more of a nationalist issue than a look at how qualified Mogherini truly was.

Time in Government
Mogherini has spent such a short time in government that her true accomplishments and beliefs are still developing. She has been on the job in Brussels as High Representative of the Union for Foreign Affairs and Security Policy for less than a year, and as such has had little time to truly cement her stamp on the EU Foreign Policy. When she took the position she was quoted as saying:
"If we point a compass in Brussels and go around it, it is all our neighbourhood that is suffering from crisis and war…to work in the interest of all member states, each and everyone, and all European citizens, each and everyone to come up with the right actions and solutions."
What Mogherini will accomplish with her time at the European Union is yet to be determined, but she has made a fast rise to power that indicates a dedicated and focused mind. Now it remains to be seen if she can turn the same energy and abilities she used to become Italian Foreign Minister towards ensuring the European Union a stronger presence abroad.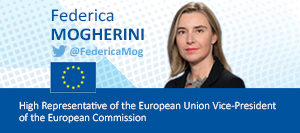 As HRVP Mogherini has proven to be determined, putting herself in the middle of every difficult external affairs situation that arises to defend the EU's interests. The political balance within the Commission is rather thin, and often Mogherini does get herself increased exposure through her position. It remains from Mogherini's performance and how dependable she proves to be, to be seen if the Commission President and and First Vice-President, Jean-Claude Juncker and Frans Timmermans duo will open up their command of the European Commission to make Mogherini the third in the EU's holy trinity.
Mogherini has the title but does not yet fully wield the power that her position could command.
Share on Facebook
Share on Twitter
Share on Google+
Share on LinkedIn
+